What is this?
What is OurWishingWell?
OurWishingWell is an online gift registry & wishing well that allows people to contribute money towards any gifts for any event, especially weddings.
What are you offering?
We have been very successfully and have recently been awarded eBusiness of the Year (among other awards) and we are looking for suitable partners to grow with us.
In summary:
we can provide you with a new revenue stream that could earn you up to $400 for each person that you refer - it is quick, easy and costs you nothing, by simply telling people about our service.
we also provide the ability to have a copy of our multi-award winning technology rebranded to look like part of your business website, which you could provide to your customers and it would earn you a new revenue stream
How does it work?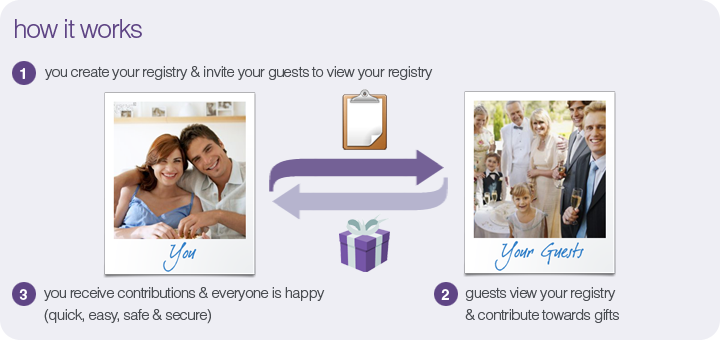 You can watch a quick video animation on how it works:
You can also watch our TV spot to learn more about how it works:
Can you use this for other events (e.g. not just weddings)?
Yes. You can use it for any event, including birthdays, baby events, fundraisers etc.
Why would I do this?
Why would someone use this?
Over 75% of couples getting married have already been living in their own place (and already have the standard household items that they might receive from traditional gift registries), so what they really need is money towards other items, like their honeymoon, or a house deposit, or other large items.
Also, over 50% of wedding couples are paying for their wedding themselves (or sharing the cost with their parents), so with our innovative gift registry system, they can also access the money before the event to help pay for the wedding itself.
What are the benefits for my customers/clients?
There are many benefits, including:
Save time & money - it\'s quick & easy to set up - you don't need to waste time at any stores
Access the money before the event - to help pay for the wedding itself
Maximise the value of the combined gifts - multiple people can contribute to the one gift, e.g. money towards a honeymoon
Reduce stress & hassles - we look after the complete management of the gift registry and payments etc
Easy access for everyone - available 24 hours a day, 7 days a week, from anywhere in the world
See more benefits.
What are the benefits for me?
In summary:
we offer you some quick and easy new revenue streams that you can add to your business; and
we also add a new value added product that you can add to your existing business (e.g. the option of your own branded gift registry website if you like)
Do you have any other partners? Who are some of your other partners?
Yes, you can see some of our partners.
Is the website safe and secure? How can I trust you?
Yes, there are a number of reasons:
We use technical best practices and security best practices on our website
We have proprietary fraud prevention measures to protect our partners and customers.
We use secure data encryption for all important information
We have a very strict privacy policy that we adhere to
We require all people to create an account (for free) and log-in before using the system
The only member that can withdraw funds is the recipient of the funds
All transactions are logged and recorded for auditing purposes and for authenticity validation (to assist in fraud prevention and the protection of people's account)
Our organization has been established since 2003 and, over this time, we have built a reputation based on quality service, honesty and integrity
Thousands of other people have successfully used our services - see hundreds of customer testimonials
Our organisation has received a number of awards and accolades (from the government and independent organizations), including "eBusiness of the Year".
There are a number of independent articles about us by respected companies
What does it cost me?
The referral program is completely free and there is no obligation on your behalf.
With our custom solution, we can negotiate various other rewards based on the type of license you would like.
Do you have any testimonials from satisfied customers?
Yes, we have hundreds of positive testimonials from customers (who use our system) and many testimonials from clients (who have already partnered with us).
How do I become a partner?
Support
What support do you provide? Who does all the administration, customer support etc?
We provide all of the administration, customer support, technical support, payment processing, hosting and maintenance of the website.
All you need to do is help to refer people to the service and we will do everything else for you.
How do I earn my referral commission?
For the purposes of awarding the referral bonus, a referral is defined as anyone who enters your referral code when they create their account.
Your referral code is your username.
There are a number of ways to encourage people to enter your referral code:
Brochures - simply enter your referral code on brochures

Get a copy of our brochures
Website - simply provide a link to our website with your referral code
e.g.
http://ourwishingwell.com/?referrer=yourcode

Download copies of our banners and logos
Email - simply provide a link to our website with your referral code
e.g.
http://ourwishingwell.com/?referrer=yourcode
Word of mouth, newsletters, chatting and any other communication
Any referral bonus that you earn will automatically be credited to your account inside OurWishingWell.com and is instantly available for you to withdraw as cash.
If you need help to set up an account or join the referral program, then please do not hesitate to contact us.
When do I get paid?
Instantly.
For the referral program, as soon as you earn a referral, the money will be automatically added to your account (and you can have this money paid into your bank account and/or PayPal etc).
With our custom solution, we can negotiate other rewards that will be instantly paid into your account.